| | |
| --- | --- |
| | SECS Message Viewer SECS Packet Logger (Monitor) , it is logged SECS message display tool , for coloring etc. to do logging information (text), and to easy analyzing. |
---
[ Feature ]
SECS Message Viewer has following features.

SECS Message Viewer doesn't support about the file not written in SECS Packet Logger (Monitor) .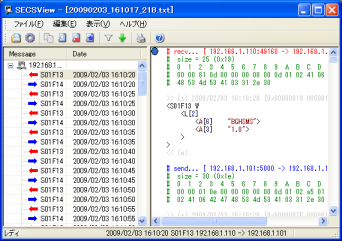 You will be able to distinguish the Receive message and the Send message easily by seeing Tree View.

You will be able to analyse SECS messages very easy if you color-code the content of the message.

You will be able to check messages very easy if you filter SECS message .

---
[ System Requirements ]
OS
Windows (R)2000
Windows (R)XP
Windows (R)Vista


Not support excluding above-mentioned OS.


CPU
i386-32bit 1.0 GHz or higher i386-32bit 2.0 GHz or higher recommended
Memory
128MB or more
512MB or more recommended

Other
PC/AT (DOS/V) compatible only.

---
[ Revision History (Summary) ]
Date
Version
Summary
2009.3.3
V2.00

The algorithm of the Auto-Reload was changed because of multi-apprication running.(Only release version).
(include auto detail scroll etc.)

The algorithm of the display was changed because of high speed.
The function to read the binary file was added. (Only release version).
The function was added like displaying date information to tree view.
Support SECS Serial Logger.
The control of the scroll of a big file was changed.

2009.1.16
V1.10

Supported for English / Japanease Windows.

2009.1.9
V1.00
First edition release
---
[ Contact us ]
Please give us mail to the following mail addresses when you have some question.

Be Graph Co.,Ltd.
Contact us for Software


---
* page and this all comes after the Windows OS, and each name is a registered trademark of Microsoft Corporation.